Meet the Dentists of Willows Dental in Saskatoon:
Dr. Kris Milne
Dr. Kris grew up in southeast Saskatchewan and is from a down to earth farming background. He first moved to Saskatoon to go to university and is happy to have made it his home. Having graduated from University of Saskatchewan Dentistry program, he served as a clinical instructor at U of S for 4 years, teaching periodontics. Kris likes to spend his time with his wife and two children, and when time permits, you'll find him tinkering inside the hood of old cars. His goal each day is to practice dentistry with patience, understanding and a gentle touch.
Dr. Christine Miller
Dr. Christine grew up in Weyburn, Saskatchewan with four siblings, so she understands the term 'family' dentistry. After two years of arts and sciences, she completed the Dentistry program at University of Saskatchewan with Great Distinction. Among her awards in pediatric and periodontic dentistry she achieved the senior student award. She was also a clinical instructor at the College of Dentistry in pediatrics. Christine is married and has two beautiful daughters. She is musical and enjoys cooking, with a particular penchant for cabbage rolls. She can also be found canoeing on the South Saskatchewan River, camping with family and friends, and cross-country skiing. According to Dr. Christine, compassion, empathy and a good sense of humour are some of the best tools a dentist can have. She enjoys the challenge and growth that this career provides.
Dr. Ibrahim Muradi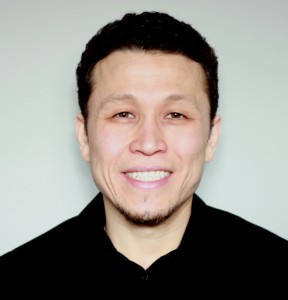 Dr. Ibrahim Muradi was raised in Toronto and moved to Saskatoon in 2005. He completed his Doctor of Dental Medicine degree at the University of Saskatchewan in 2010 and has since been practicing in Saskatoon. He is also a part-time clinical instructor at the College of Dentistry. Dr. Muradi is committed to updating his dental knowledge through Continuing Dental Education that will enable best quality of care for patients. He enjoys practicing in all areas of General Dentistry. Aside from Dentistry, he enjoys playing basketball, volleyball, traveling and spending time with his wife and two children.
Dr. Abdullah Patel
Dr. Abe was born and raised in South Africa. He graduated with a Bachelor of Dental Science degree from the University of the Witwatersrand in South Africa. In 2002, Abe and his wife Fatima immigrated to Canada and have since settled in Saskatoon, with their 3 kids. He went on to complete a General Practice Residency at the Royal University Hospital, and then graduated from the University of Saskatchewan Dentistry program. Dr. Abe enjoys attending courses to keep updated with the latest dental trends and practices, and incorporates these new methods within his patient care. He provides a variety of treatment options for his patients, including nitrous oxide sedation and dental implant restoration. Apart from travelling with his family, Abe loves cooking, reading and golf. He loves working with children and building lasting relationships with his dental families.
Dr. Norm Vankoughnett
Dr. Norm was born in Whitehorse, Yukon and raised in Hudson Bay, Saskatchewan. He attended the U of S where he completed his Doctor of Dental Medicine degree with Great Distinction. During his university career, Dr. Norm was the recipient of numerous scholarships and awards. After graduation he practiced dentistry in both rural (Central Butte and Davidson) and Saskatoon locations. He has been and continues to be involved with the College of Dental Surgeons of Saskatchewan and the Canadian Dental Association, having served on numerous appointments and committees. He remains current with all advances in dentistry by staying up to date with continuing education seminars offered in the areas of cosmetic and restorative dentistry, implant dentistry and sedation. He has special interest in the area of pediatric dentistry. Norm is married and has 3 children. His hobbies include everything outdoors. He enjoys helping out with his children's sports groups, spending time with family and friends, fixing and building almost everything, and either cruising the highways or jumping ditches on his motorbike.